Jermaine Stegall – Film Composer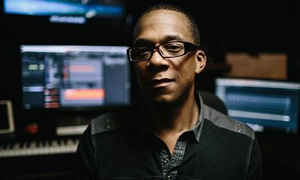 After receiving a graduate certificate from USC's Scoring for Motion Picture and Television program in 2004, Jermaine Stegall began working closely with composer Marco Beltrami on films such as I, Robot, Flight of the Phoenix, and Scream 4. This ultimately led to many opportunities to work as an orchestrator and conductor of original and additional music for film and television for such studios as Warner Brothers, Lionsgate, Dimension Films, Fox Digital Studio, NBC Universal Television, VH-1, and CW Television.
Jermaine participated in the 2016 Sundance Composer labs held at Skywalker Ranch. During the labs, Jermaine worked closely with composers Harry Gregson-Williams, Christophe Beck, and the Skywalker Sound Design team. Jermaine Stegall has scored over 20 feature films, some of which have been released theatrically in the U.S., Mexico, and Colombia. A few of Jermaine's film scoring credits include the theatrical release of Jamesy Boy directed by Trevor White on (Phase 4 Films), and Badge of Honor on (Anchor Bay Films) directed by Agustin. Jermaine scored for the 2016 teen comedy "Mono" for (Fox Digital Studio) which was released on Netflix. His music can also be heard in episodes of "Best Friends Whenever," "Liv and Maddie" which both air on Disney Channel, and season 2 of "Supergirl" on the CW network. The musical piece at the end of the podcast is called "Main Title" composed by Jermaine Stegall. To hear more check out his website.
Helpful Links: • https://www.jermainestegall.com/ • https://www.imdb.com/name/nm1820736/ • http://jermainestegall.tumblr.com/ • https://twitter.com/jermainestegall • https://www.youtube.com/jermainestegall1 • https://www.instagram.com/jermainestegall/ • https://soundcloud.com/jermainestegall